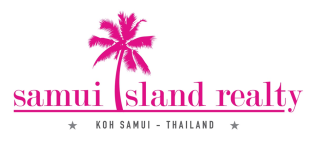 Samui Island Realty, a newly formed company by experienced individuals in both construction & Real Estate on the tropical island of Koh Samui.

Our experienced, knowledgeable staff are committed to providing you with a personal & professional service.

As a seller we believe our approach will give you the best possible chance of selling your property.

As a buyer we will always provide honest & correct information, we endeavour to provide professional advice from the start.

At 'Samui Island Realty' we offer an extensive portfolio of properties, land & commercial buildings for sale, lease or rent in Koh Samui, with the plan to expand to further destinations such as 'Phuket', 'Hua Hin', 'Krabi', 'Bangkok' & 'Pattaya' in the near future.

Samui Island Realty is a full service real estate agency on Koh Samui. Our service include –

• Home Finding
• Property Viewings
• Price Negotiation
• Valuations
• Property Management
• Recommending & Introducing Clients To Reputable Law Firms

Our vision is to be the Real Estate agency of choice on Koh Samui. We endeavour to deliver the highest quality service to all our clients, wether buying, selling or renting in Koh Samui.


Kandana is an independent Real Estate agency based on the island of Koh Samui. Our dynamic team are highly experienced in the local property market, wether your purchasing for lifestyle purposes, investment, a permanent residence or a combination or all, we can assist with shortlisting a selection of villas and exclusive homes for viewing that meet your requirements.
Kandana Real Estate are committed to providing you with the highest level of customer service and look forward to speaking with you.
Our friendly team is available via phone, email or social media channels, day and night to answer any questions/requests you may have regarding purchasing property here in Koh Samui.