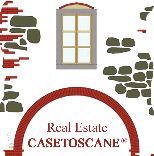 CASETOSCANE REAL ESTATE
The numerous real estate proposals presented by Casetoscane Real Estate, are continuously updated and detailed with all the information you need to appreciate the potential of property.
Our decades of experience and the absolute satisfaction of our clients, are the best guarantee of success, reliability and seriousness. Our staff will assist you constantly your property search, from the early stages of seeking the most suitable property through the entire process of real estate brokerage service until the notarial deed. CASETOSCANE ® staff, consist of technicians and engineers with decades of experience, put at your disposal its competence and professionalism for compliance audits, town planning and land tax, providing besides any provision necessary for surveying and architectural designs relating to restructuring and new buildings of any type of real estate.
For Sweden/Finland visit the website www.talo-toskanassa.com where a Finnish collaborator can speak with you